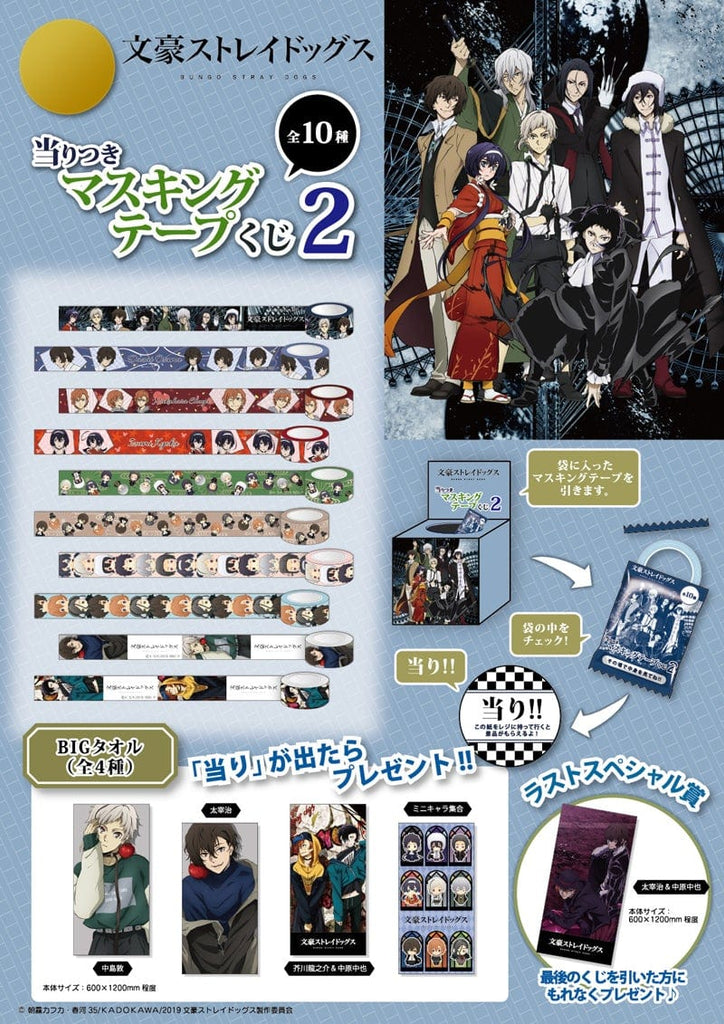 Kuji - Bungo Stray Dogs Hitting Masking Tape 2 Mini Kuji (OOS)
guarantee

Quality checked

Ships Worldwide

We Ship Everywhere

Special gift cards

Special gift cards

Returns Policy

Within 7 days

Self-Collection

No postage fee

About Kuji - Bungo Stray Dogs Hitting Masking Tape 2 Mini Kuji (OOS)
There are 60 prizes to be won! Buy any number of tickets for a chance to win any of the prizes in the images. There will be a video streaming of the drawing of the prizes after you have purchased the tickets. The streaming drawing date will be updated here, along with the remaining prizes. The exact date and time details will be emailed to buyers.
Assorted Masking Tape
Last Prize: Stuffed Toy

NEXT OH! Raffle: Refer to Countdown Timer
FLAT Shipping 🚢!!!
KUJI DELIVERY INFORMATION
*For this Kuji, we will not be billing shipping separately and the shipping you pay during checkout will be the final shipping irrespective of the item you win! 

That's right! No extra shipping for the larger prizes like Prize As and the last prize!

**There are strictly no refunds or cancellations for Kuji purchased. If we do not receive delivery fees payment for the items you have pulled by the deadline, we will proceed to send you the ticket stubs that you have purchased and forfeit the items. 
TERMS
*Please note that for Kuji items, there are no holds or reservations for Kuji tickets for eCheque payment options until the order is paid / eCheque cleared.
*Strictly no cancellations and refunds for Kuji purchased.
*Designs will be randomly picked for items with multiple designs. Our kuji is shared with our offline stores, and item availability information may change real-time in between live-show segments. We are also unable to facilitate changes / choosing via email, messaging or any other methods.
---